5 Black-Owned Restaurants You Need to Try
Just Add Honey Tea Company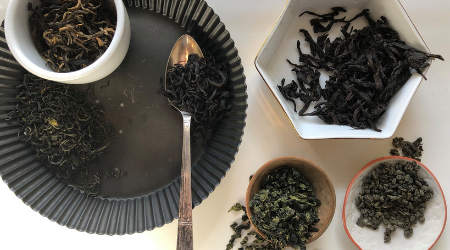 684 John Wesley Dobbs Ave, Unit E
Atlanta, GA 30312
Started by Brandi Shelton, aka "the Tea Lady", Just Add Honey Tea Company is "a sophisticated twist on a southern tea tradition". Few things bring more comfort than a well-made cup of tea. Just Add Honey Tea Company is on a mission to provide fresh and flavorful tea made with all-natural and pure ingredients that make for a stimulating and soothing experience with every sip. From black tea and herbal tea to fruit and specialty teas, you're sure to find something you'll enjoy here!  You can visit their shop on the Beltline, purchase their products from another retailer, or even order online.   
Mouthwatering Must-Try: Berries on the Beltline
Imagine cranberries, apple, hibiscus, orange peel, rose hips, elderberries, cinnamon, ginger infusing together in your delicious cup of tea. It's sweet and spicy. Great hot and iced. refreshing, delicious, and just lovely. 
Tassili's Raw Reality Café 
1059 Ralph David Abernathy Blvd 
Atlanta, GA 30310 
Located in the Historic West End, Tassili's is the raw, vegan cuisine paradise you didn't know you needed. About 8 years ago, Tassili Ma'at was determined to make the best kale in Atlanta. One bite of the Spicy Kale Salad and you'd probably agree that she succeeded. From wraps to salads, you're sure to find something that tastes good and makes you feel even better! 
 
Mouthwatering Must-Try: Spicy Kale Wrap (it's huge!) 
Fun Fact: Tassili's Raw Reality Café is featured in our original picture book In the West End which is being adapted into a virtual theater experience this spring!
Twisted Soul Cookhouse & Pours
1133 Huff Rd NW 
Atlanta, GA 30318 
If you haven't gotten the chance, you should run, not walk, to Chef Deborah VanTrece's Twisted Soul Cookhouse. This contemporary soul food restaurant offers dinner and brunch. Formerly located in Decatur, Twisted Soul now calls West Midtown home. Chef VanTrece is inspired by food from all over the world and it shows in the thoughtfully curated menu. Current standouts include Cacio e Pepe Buccatini with Ellijay Mushrooms, a Coastal Seafood Hot Pot, and Hoisin Oxtails. 
Mouthwatering Must-Try: Twisted Soul's menu changes with the season, but anything with their signature fried chicken shouldn't disappoint. Don't forget the peach cobbler! 
Le Petit Marche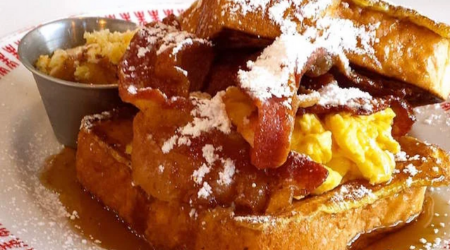 1984 Hosea L. Williams Dr. Ste 
Atlanta, GA 30317 
"The Little Market" began as a true market, selling fresh breads, cheeses, pestos, and other items. In 2008, the focus of the market shifted from retail to prepared foods and, for that, Atlanta will forever be grateful. The restaurant continues to attract patrons from all over and has established itself as a neighborhood hangout during its beloved breakfast and lunch. Head over to Kirkwood for a flavorful and delicious meal! 
 
Mouthwatering Must-Try: Try the French Toast Sandwich for breakfast. You're in for vanilla-rum battered french toast, scrambled eggs with your choice of pork bacon, local fave Delia's chicken sausage or veggie sausage all drizzled with hot buttery syrup and powdered sugar. Yum!
Dat Fire Jerk Chicken 
226 Northside Dr SW 
Atlanta, GA 30313 
 
Craving a Jamaican vacation, but not feeling the hassle of traveling right now? Look no further than Dat Fire Jerk Chicken on Northside Drive. Chef Jay John is known as the "Jerk Pro" because he's an expert in mixing and grilling with Jerk seasonings and spices. He also prides himself on making healthy Jamaican food so there's nothing stopping you from indulging! If you want authentic food with a welcoming atmosphere, Dat Fire does not disappoint.  
 
Mouthwatering Must-Try: Jerk Chicken (obviously)! Pro tip: they can adjust the spice levels to fit any taste, so you don't have to actually feel the burn. Also, if you miss the plantain, you'll regret it.