A Christmas Carol: The Worth of Things
"But I have a few papers, some old photographs. They have little value but are of infinite worth." — Ebenezar Scrooge
In A Christmas Carol, Ebenezer Scrooge is called upon to reckon with his fixation on worldly goods by otherworldly figures. Throughout his nighttime journey, he learns that his relationships with family, friends, and neighbors are more important than any of the expensive items that he owns.  
That's not to say that physical objects are not significant. Instead, an item's worth is measured, not in monetary value, but in the way that it connects us to other people. The most important items have little to no financial value at all.  
We asked the people involved in Alliance Theatre's production of A Christmas Carol to share stories of important items in their lives. Here are some of their responses: 
Arthur the Traveling Teddy
"My childhood teddy bear: Arthur. My father caught me eyeing him in a toy store during a family vacation in California and later surprised me with him. Holding him for the first time is one of my earliest childhood memories of pure, unadulterated joy. Arthur represents to me the pure, selfless love of my family. Over the decades, he has traveled all over the world - from vacations, to college, to dozens of jobs across the country, Europe, India, Asia. He is quite worn and tattered, yet remains a beautiful symbol of my family. I am currently pregnant with my first child and I cannot wait to place Arthur in her hands for the first time - as my father did for me."  
—Rhyn McLemore, Ghost of Christmas Past/Ensemble  
Nana's Furry Legacy: The Tiger Striped Throw
"My nana was a Leo and loved anything leopard or tiger striped — anything big cat related.  When she passed, my sister and I were given these king-sized fleece throws — I was given the tiger striped, my sister the leopard print...It's been more than 20 years since her passing, and through all my moves — from college to LA to Memphis, back to San Diego, and then to Atlanta — I still have that throw, which I refer to as 'my nana blanket.'"  
—TeKeyia Amaru-Rice, IDEA Director 
Broken Guitar, Unbroken Memories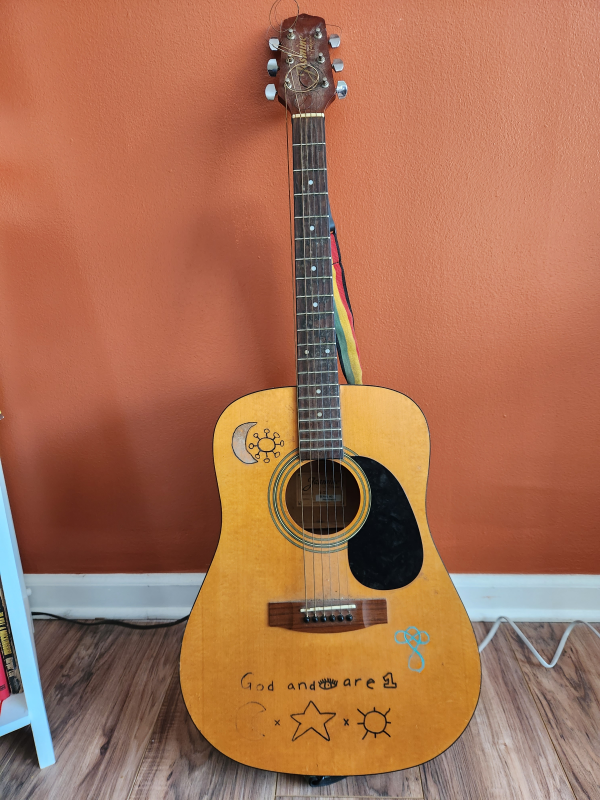 "My wife gave me a guitar when we were in college. She engraved a quote from one of my favorite poets on it. Now it sits in our living room even though it's broken and out of tune. It's a reminder of when we were first together years ago."  
—Christopher Hampton, Mr. Cratchit/Mr. Pritchitt/Ensemble  
A Mother's Stitched Love
"I took ballet when I was 4 years old. My mother was very into handmade clothing, so she made me a ballet bag out of my favorite baby blanket. I still have it in my closet, holding pairs of abandoned dance shoes from high school and college. I'm sure a tattered and stained 80s blanket bag has little value in any market but the memory of my now-gone mother's desire for me to have something comforting in my first extracurricular activity is worth quite a lot to me."  
—Liz Campbell, Stage Manager  
My Father's Wedding Band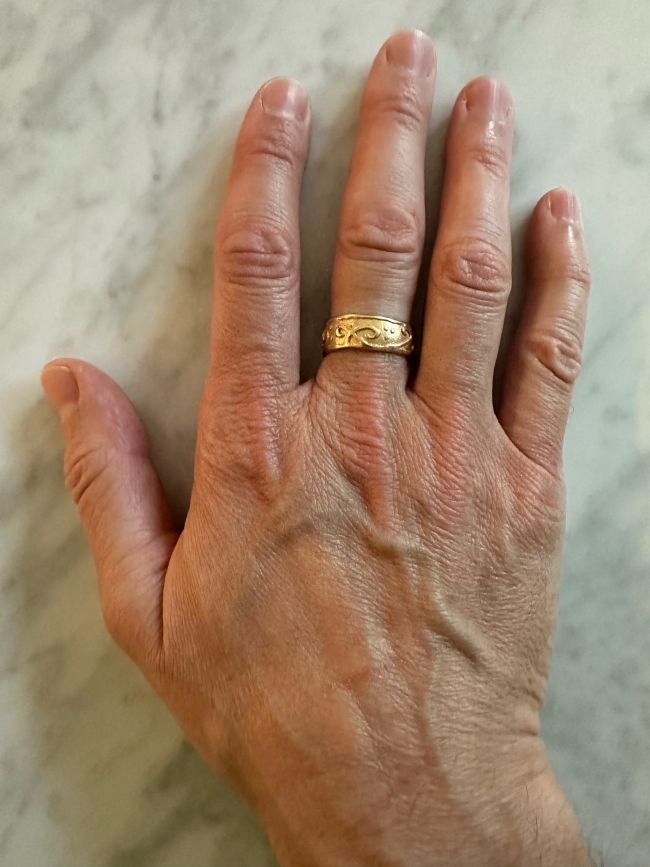 "Certain objects that tie me to my past become almost magical, like a talisman. One of them is my father's wedding band, which I started wearing after he and my mother were both gone. It carries history and significance that are unique to me. I saw it on my father's hand for my entire life, and I now see it on my hand. It reminds me of who I come from and, to some extent, who I am."  
—Andrew Benator, Ebenezer Scrooge* 
Captured Memories: Photographs and Handwritten Letters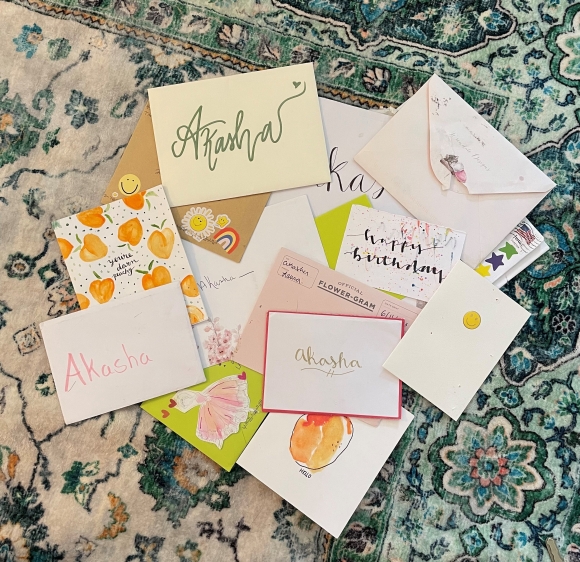 "I have two photographs: one of just me at maybe 3 or 4 and one of my siblings and I as kids. Anytime I look at the girl in the first photo I'm struck by how wide her smile is. I'm reminded to keep my younger self with me as I journey on— especially her optimism and her lively spirit. The photo of my siblings and I is really meaningful to me because even though we don't live in the same state anymore, they are incredibly important to me. We've been through a lot together and I'm so proud watching them grow. Finally, I have a little crate of cards and letters that my friends have sent me over the years. They serve as reminders of all the people I've been blessed to know. A handwritten letter with stickers and drawings carries so much love!! You know the sender put time into it."  
—Akasha Nelson, US Mrs. Cratchit/Mrs. Fezziwig/Missy Watkins/Bess/Mudge/Mrs. Dilber/Ensemble 
My Mother's Letter
"A letter from my mother that she wrote to me when I was 18. I was going through a tough time, & even though we talked freely all the time, there was something deeply meaningful about her written words reminding me how much she loved me & believed in me no matter what."  
—Ann Marie Gideon, Missy Watkins/Bess/Mudge/Ensemble 
Daughter's Drawings
"My daughter's drawings. These are priceless to me and my husband, as they represent her development over the years, but have little traditional value (as in, not worth purchasing.)"  
—Lindsay Ridgeway-Baierl, Manager of Individual Giving 
Trinkets of Memories: A Collection of Moments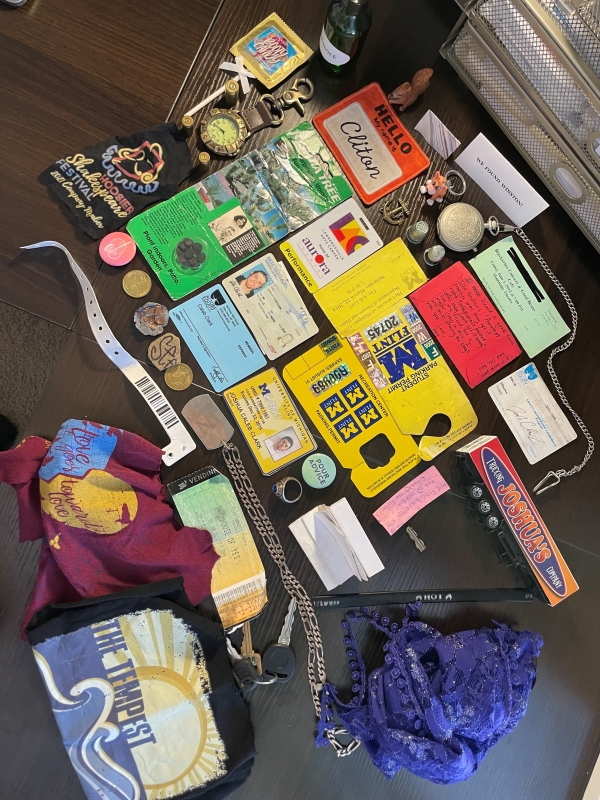 "I have a small bag of trinkets in my closet that I keep, rarely look at, and never throw out. It's a collection of small items from my life that had some kind of impact on me at the time, or they represented a moment that meant a lot (most are from shows). There's a tiny sewing kit, a magnet that says "Dumpster Fire Tour," a bracelet with the letters WAWD (what are we doing) printed on it, the casing of a bullet from my first time shooting at a range which was in preparation for my first show which we had to use firearms in, a blue scarf that was Cordelia's when I did "King Lear" for the first time (I was the Fool and I had decided I was in love with Cordelia), a note from a girl inviting me to a concert years ago (I found out shortly after that she had taken her own life and I never saw her again after she gave me that note), and a small ring purchased from an Old Navy that my now wife and I wore when we shot an adaptation of "Hamlet" in my home town (we played Hamlet & Ophelia). Connecting with those items physically can almost put me back to the time when I received them, and it's one of the best ways I have to make sure I don't forget the meaningful things that have happened to me, that were perhaps too quick or short for a photo or a big memory attached. I look forward to being 80 and looking back at all the trinkets I've collected from a life well lived, and boring my kids with all the stories that those items hold."  
—Caleb Clark, Young Scrooge/Peter/Ensemble and US Ebenezer Scrooge 
A Blossoming Love: The Homemade Cherry Blossom
"A homemade cherry blossom. Made from tissue paper and a stick from a backyard. My now husband, Lowrey, mailed this to me at the very beginning of our dating time period while I was away working on a show. He knew that cherry blossoms are my favorite flower and sent it to me for opening night. It is literally a stick anyone could find in their backyard with paper glued to it, but it still sits proudly on the mantle over our fireplace. It has little value to anyone else, and would look like a childhood craft, BUT to me it showed just how much he cared by taking the time to make something very specifically for me."  
—Lyndsay Ricketson, Ghost of Christmas Future/Ensemble 
Connected By Jewelry: The Friendship Necklace
"I have a necklace that I wear almost every day that matches one that my best friend also has and also wears every day. It didn't cost a lot but seeing it in the Snapchat pictures we send each other every day is always a morale boost and connects us across the miles."  
— Ashley Elliott, Marketing Coordinator 
Now, we turn it to you: What are some meaningful items in your life? What are the things you have been given by loved ones, and what do you hope to give in the future? 
In the wise words of MR. FEZZIWIG, "At the end of your days one look at this photograph and you'll be transported back to a time surrounded by good companionship. And good friends."