Top 5 Reasons to See The Dancing Granny at Alliance Theatre
We've officially hit summer here in Atlanta, and while temperatures are rising outside, we're staging the hottest dance party inside: The Dancing Granny. Kicking off our historic off-site season is a tale for youth and families from the mind of beloved author and Newbery Honor Winner Ashley Bryan, adapted by 2017 Alliance/Kendeda Competition Alumnus Jiréh Breon Holder and directed by Yale Directing Fellow, Leora Morris. This world premiere play is not playing at one, but three different venues in three different neighborhoods: Oglethorpe University (Brookhaven), The Galloway School (Buckhead) and Spelman College (Atlanta University Center). 
But with all there is to do this season, why should you grab the kids and come see the show? Here are five reasons why The Dancing Granny is a must-see:
1) It's Never Been Seen Before 
While countless families may be familiar with Ashley Bryan's work, this is the first staging ever of the groovin' granny's story. Alliance fans may be familiar with the show's playwright, Jiréh Breon Holder, writer of last season's smash hit, Too Heavy for Your Pocket. Having been workshopped for several months, this production is now ready to delight audiences of all ages. When the show has a life beyond the Alliance, you can say you saw it here first! 
2) Colorful Wonderland 
Using Bryan's bright, visual imagery, The Dancing Granny designers have turned these stages into a true work of art. Luscious, vivid colors spill into all aspects of the costumes, props, set and lights.  It's like stepping into a storybook of your dreams, complete with extra bits of whimsy thrown in. Audiences may even get a glimpse of renderings of Bryan's original sketchwork and inspiration from his other radiant illustrations.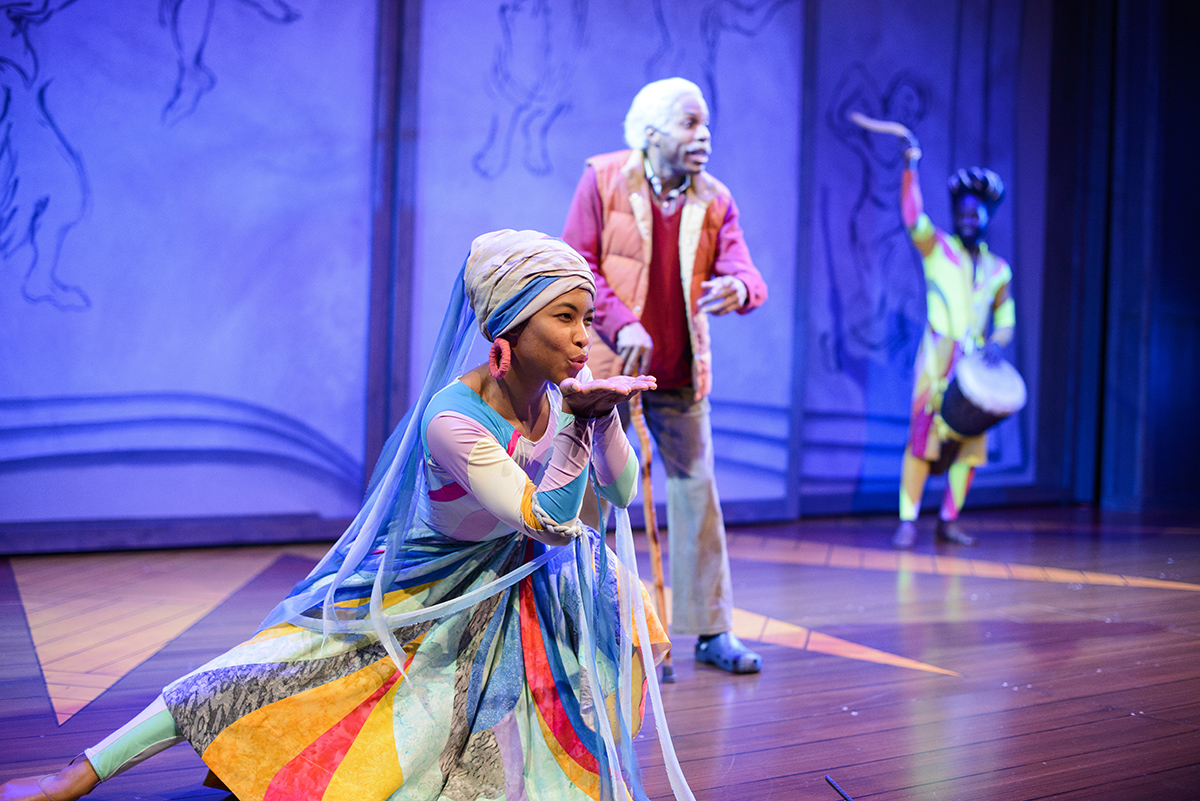 3) We're Coming to You
As we mentioned before, the Alliance is literally taking the show on the road throughout the entire 2017/18 season. And, as special treat, we're expanding our reach to three different areas for this particular production, so even more folks can catch Granny's magic. So whether you're attending a show in a location that is most convenient to home, or taking the opportunity to explore a new neighborhood, now is the perfect time to take advantage of the traveling play. 
4) The Music and Dancing, Oh My! 
We'd be remiss if the dancing elements were not mentioned in this piece. Beautifully cheoreographed by Granny herself, Ameenah Kaplan, the movement drives the story along to its joyous ending. See how Spider Ananse uses his catchy, upbeat tune to bewitch Granny into a dancing frenzy. Be engrossed in how Granny, Earth and Wind plant vegetables and harvest the new plants. Join in the applause when Old Man pulls out his own moves. And don't forget to listen to the intricate rhythms during Granny and Brother Sun's cooking.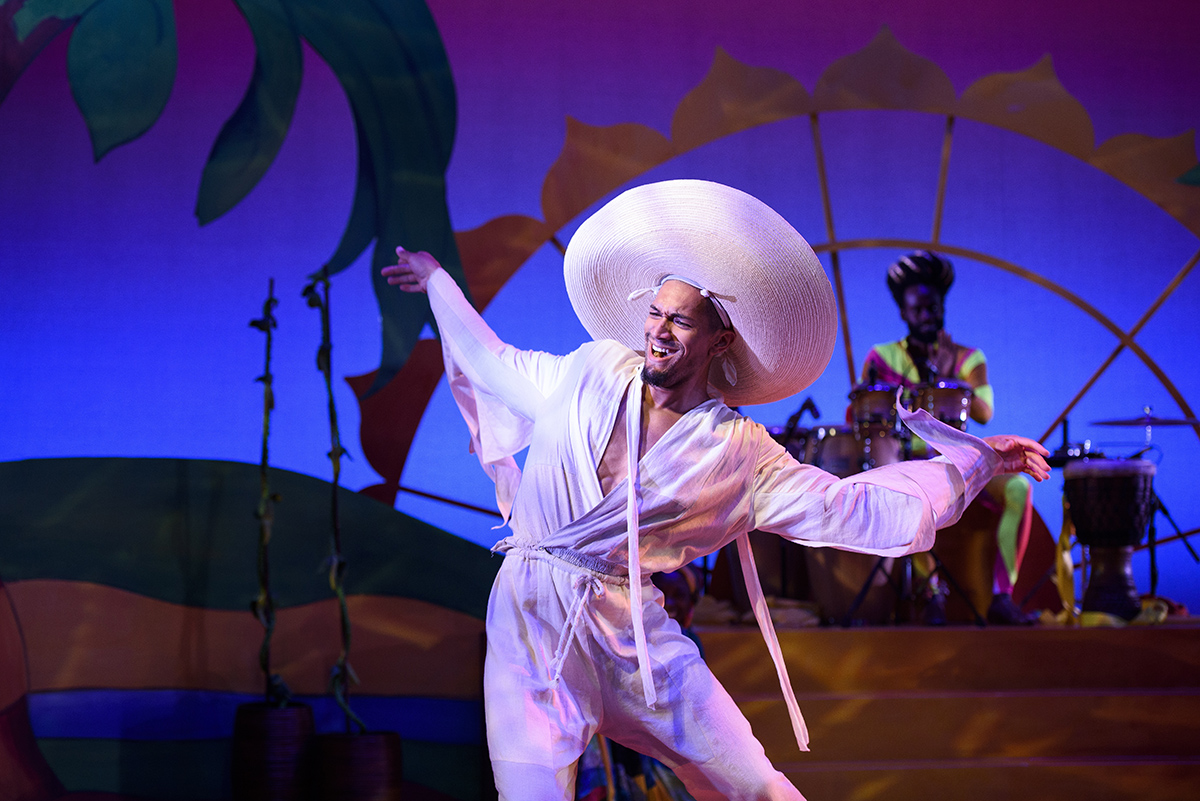 5) Granny, Earth, Wind, Spider and Brother Sun
Much of the cast is making their Alliance Theatre debut, but all have impressive resumes around Atlanta and beyond. Star and choreographer Ameenah Kaplan (Granny) was not only an original cast member of the American cast of STOMP, but she's known to fans of the TV show The Office as Val, Dunder Mifflin's warehouse foreman. Chani Maisonet (Wind) and Benjamin DeWitt Sims (Spider) are staples at local professional theatres including Theatrical Outfit, Aurora Theatre and Synchronicity Theatre. Breanna Ross (Earth) has danced all over Florida with her West African performance pieces. Akumba Bynum-Roberson (Brother Sun) is the king of drumming with over 20 years experience in his craft, instructing and playing around the city. And Eugene H. Russell, IV (Old Man) may be familiar to Alliance regulars as a cast member of Pearl Cleage's What I Learned in Paris, Jesus Christ Superstar and Cuttin' Up. 
Dance, don't walk, to grab your tickets for The Dancing Granny before the final performance on July 16!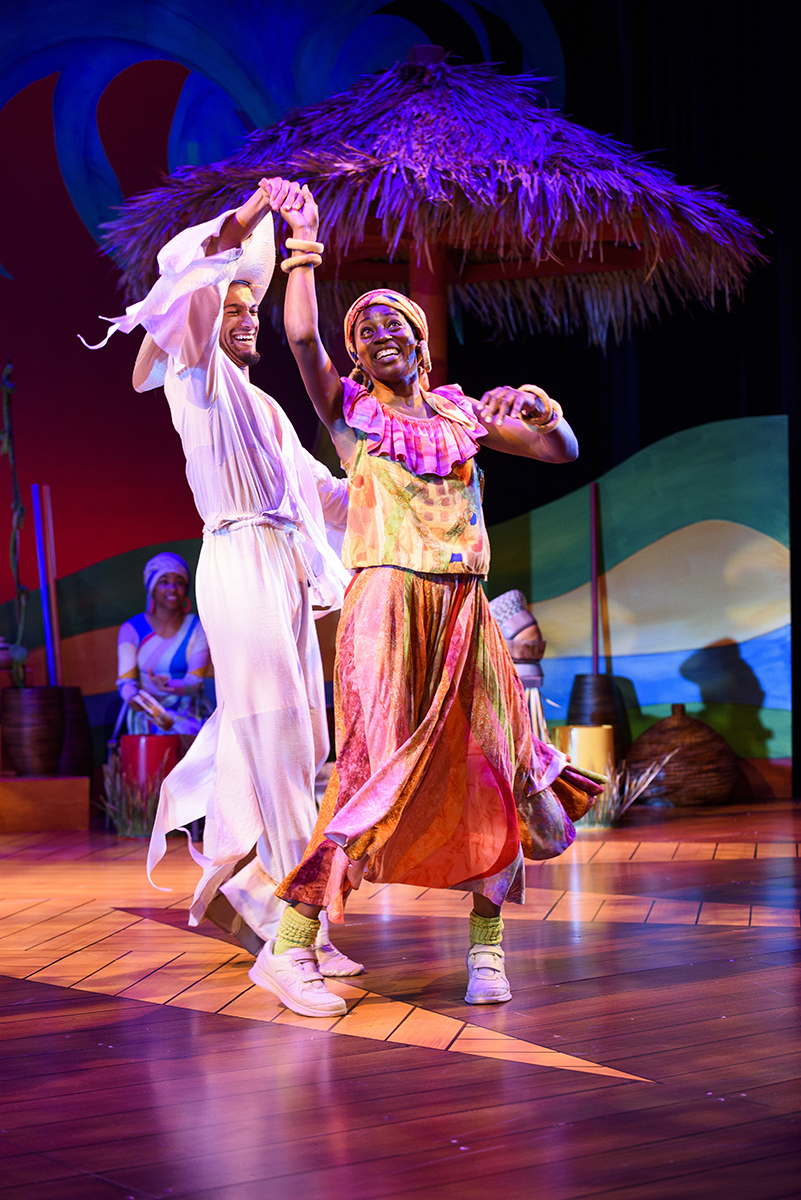 by A'riel Tinter, Brand Journalist